In the tale of Alice in Wonderland, the White Rabbit sparks Alice's curiosity and causes the start of her incredible journey to Wonderland. If your kiddo is anything like mine, they see 'white rabbits' many times a day. These interests can completely change how the rest of your day is going to go.
If you enjoy planning down to each detail this can be such a source of frustration. I personally love planning, but I've had to learn to just let the reins go, especially when I see that my daughter would rather learn about something she heard in passing versus the elaborate activity I may spent the week preparing.
I'm going to let you in on a secret, it's ok to break away from your plan (I know, sometimes it really hurts). It's ok to research a new topic on your phone, just invite your child to ask what they want answered or what they'd like to see. It's also ok to just pull a new activity from no where, substitute any item you might not have and make it fun for you both! There's nothing like seeing that twinkle in your little learner's eyes and pride in knowing you've worked together in learning something new.
Books on Various Topics
I like to keep some books on hand about a variety of topics in case any of them interest my little ones. I can simply pull out a book and have a baseline of information to start with! (It also makes me look like a supermom which I'm all for).
It has everything labeled to help your child learn everything about the body at once and then individual pages to talk about them separate. Now your child can follow along with book as they point out their own nose or forehead, etc.
Discover early science concepts with your toddler. Rookie Toddler books offer fun ways to engage with little ones during story time and play time.
This charming book explores backyard favorites, such as ladybugs and lightning bugs, and introduces kids to more exotic species that inhabit rain forests and deserts around the world.
Learn all about our planet's geology, geography, atmosphere, weather, and more: Magma erupts from a volcano, turbines harness the power of wind... Best of all, lots of flaps, popups, pull-tabs, and rotating wheels bring mountain ranges, continents, and oceans to life.
Activities
In keeping with our theme of preparing for those lively White Rabbits, here are some great activities that align with our book recommendations to help make your day easier!
---
This Week's Favorite Activity
We've finally taken the plunge. I'm sure many of you can appreciate how the year 2020 made childrearing...interesting to say the least. Our family caved on a popular show we'd heard so much about but tried to keep our kids away from simply because we were trying to limit screen time.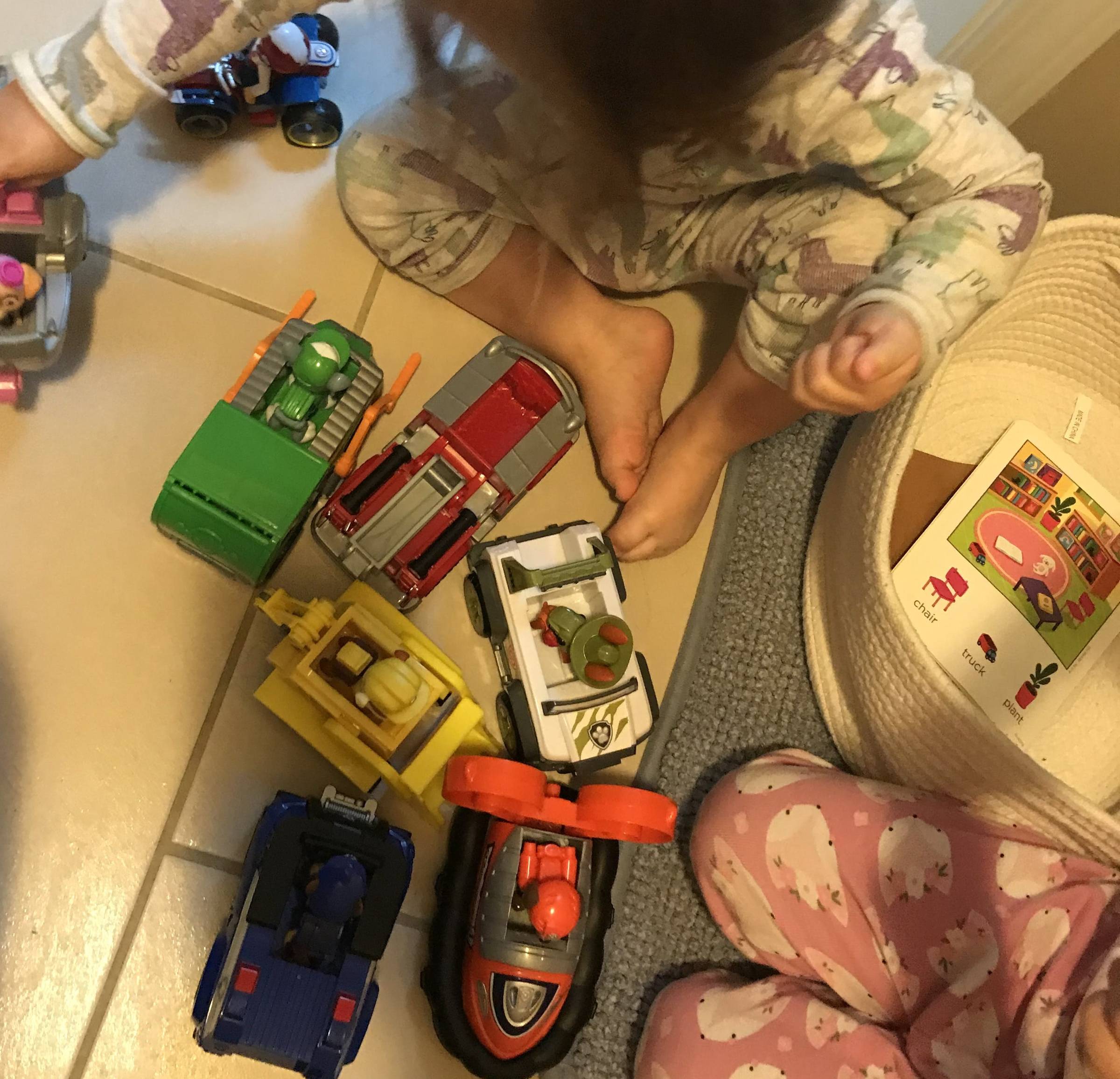 So now we're a Paw Patrol family. We keep all the pups and their vehicles in one basket so there are no missing parts (and so I don't step on Tracker in the middle of the night). My eldest loves to act out mission that she creates in her mind, so far we've rescued socks, PJs, and cats. I try to remind them that each pup plays to their strengths and does the right thing. Not sure they hear me over the whooshing and banging, but I hope they'll remember the fun and lessons as they grow. While I know we all have different feelings on screen time and shows, I love that they are using their imaginations, creating dialogue, and focusing on teamwork to get their missions 'done.'
Happy learning and growing!