If you're a parent who is considering homeschooling either full time or to supplement your child's learning at school this is a great post for you! We're chatting about classical learning.
Let's talk about trivium. If you're wondering what I'm talking about, here's the gist. The classical approach to learning focuses on teaching children to think for themselves by moving through three main stages of learning (aka trivium). The three stages are The Grammar Stage, The Logic (or Dialectic) Stage, & The Rhetoric Stage.
If you're focusing solely on a little learner (a kiddo who is still in the early elementary years), they'll be in the Grammar Stage which is where you work on building their foundational knowledge (reading, math, science, and social studies). Here are some great articles that go more in-depth on this methodology and they'll help you determine if this is the right learning style for your little learner. We'll also include highly recommended books below!
The Classics for Classical Education
As promised we've provided you with the books that many who practice classical homeschooling recommend to their own friends and family.
In The Core, Bortins gives parents the tools and methodology to implement a rigorous, thorough, and broad curriculum based on the classical model.
The Well-Trained Mind will instruct you, step by step, on how to give your child an academically rigorous, comprehensive education from preschool through high school--one that will train him or her to read, to think, to understand, to be well-rounded and curious about learning.
In need of more books? (Who isn't?) Check out our Classical Homeschooling Recommendations.
Activities
As usual we've brought you some great activities for you to do with your little learner!
Shape Art - you can practice reciting various shapes and giving your little learner a chance to be creative!
Rice Bin - your little one will thoroughly enjoy scooping and transferring rice around into various containers! (If your little learner is still putting items in their mouth it's recommended to skip this OR use oatmeal or their favorite cereal!)
Tape Rescue! - little learners have an affinity for sticky items, like tape! You can use animals like the linked article, blocks, figurines, etc!
---
This Week's Favorite Activity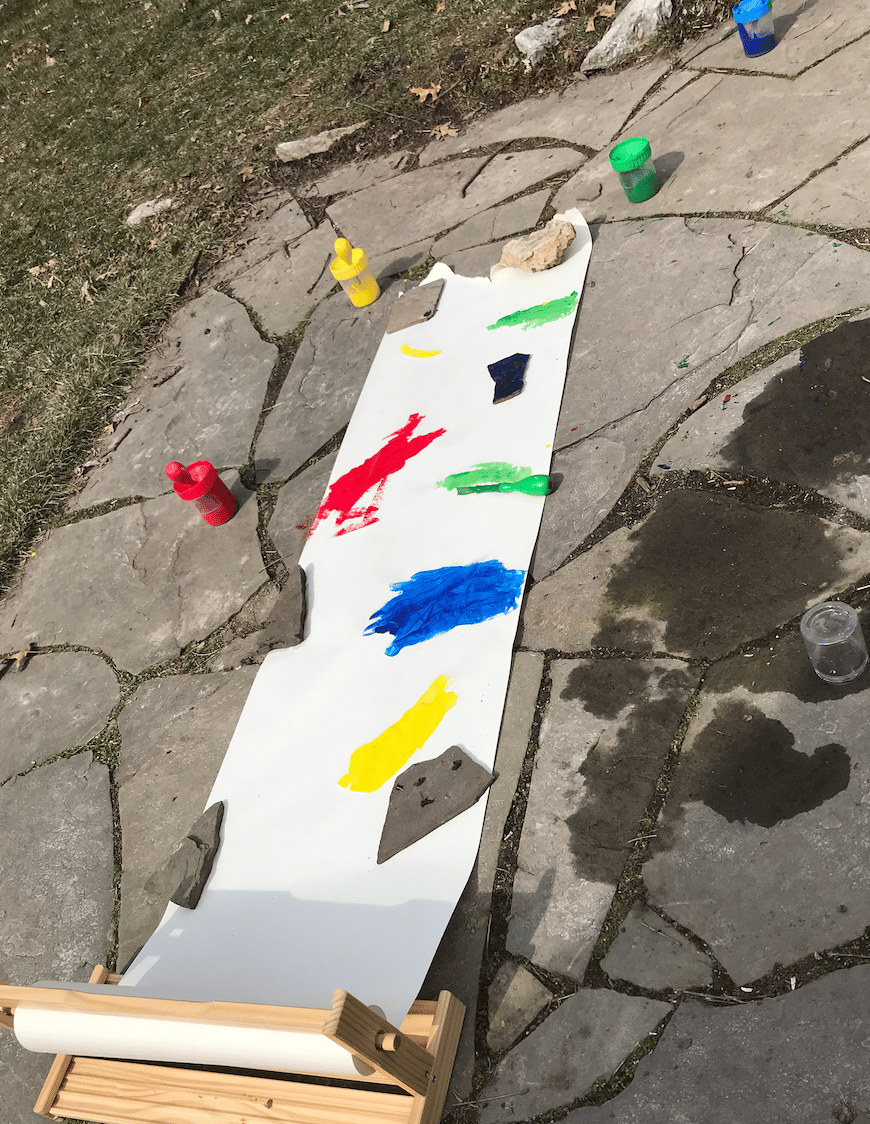 We've been enjoying some lovely weather of late! So I brought out a roll of kraft paper and we enjoyed painting outside on the ground. The uneven pavement made for interesting shapes and my little ones were encouraged to find rocks, acorns, sticks, anything that would be fun to paint!
Happy learning and growing!