Welcome! Whether you're homeschooling full time or supplementing what your little one is learning at daycare/school we promise that you'll be happy with all the tips, content, and links we'll be sharing.
For our seasoned pros, we invite you to skip down to some great book recommendations and activity suggestions for you and your little learner.
For those just starting out join me in the next section.
Favorite Homeschooling Books
You may be asking yourself 'how do I teach my toddler?' First I ask that you don't let the title of 'Homeschool' stop you from perusing various teaching methodologies. These methods can be integrated into your daily life, which we have found so helpful in our home! Learning how to connect and reach your little one when they are curious and want to learn can make so many activities fun!
Below are a few of my favorite books, if you have chosen to homeschool using a certain method or haven't even considered looking into homeschooling books, we recommend exploring all methodologies!
This practical, color-illustrated parenting book is filled with activities and instructions for overseeing children as they carry out a variety of learning activities.
Extraordinary Parenting offers authoritative, calm, credible advice that is easy to digest and put into practice straight away, as parents learn to navigate unthinkable circumstances. Central to this quick, informative read is a guide to building strong, flexible family rhythms.
You can homeschool. And it can be simpler, cheaper, and better than you ever imagined! The mere thought of homeschooling can be overwhelming. What curriculum do I choose? What if we can't afford all the books? How do I schedule our time? Will my children become socially awkward recluses? What if I screw up my kids' education?! Take a deep breath. You've got this!
Want more suggestions? You can check out our entire list at our Bookshop.org shop here.
Activities
Here are some great activities that don't require much (if any) prep and will bring your little learner so much joy!
Sink or Float - This can be done with a variety of objects. If you want to get extra fancy you can grab a baking sheet, put masking tape down the middle and have your little learner sort which item floats and which item sinks.
Baking Soda & Vinegar Art - Your little artist is going to love the bubbles and sizzles that their masterpiece will create!
Masking Tape Roads - another fun alternative to this is making a walking path for your little learner to follow, include some twists and turns and watch them concentrate on putting one foot in front of the other!
---
This Week's Favorite Activity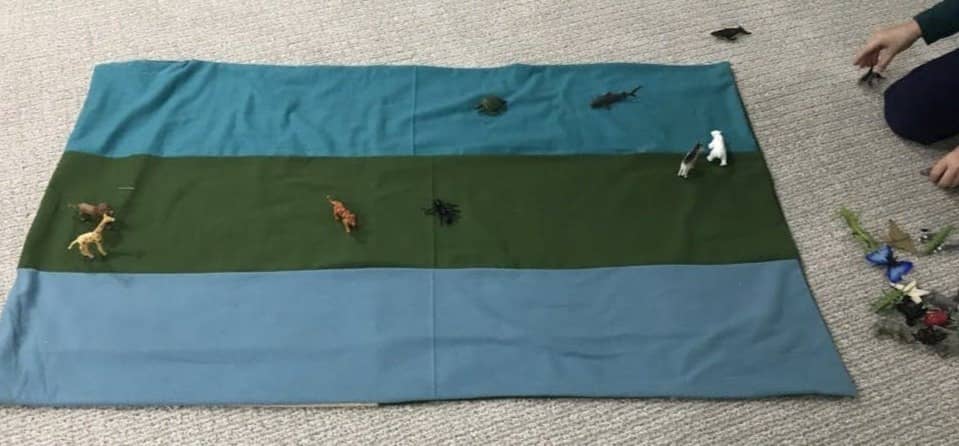 One afternoon I had an idea to quickly sew together a mat that had three sections for Sky, Land, and Water. As you can tell by the photo, it's not very professional and the edges could be pressed better, but the moment I set it down for my daughter she took to it. She played with it for hours moving animals to the correct areas where they lived and teaching her little sister.
This is proof that you don't need the purchase the 'perfect' item, there are times where you can create it yoruself! You'll beam with pride as your little learner explores their new favorite materials.
Happy learning and growing!