Homeschooling doesn't have to be an expensive investment. You may be on the fence simply because you're worried you'll have to purchase everything you feel your little learner will need to get a good education. Worry not! We've compiled some unlikely resources that you may not have thought of!
Teachers (retired, friends, or family) - teachers, current or former, are amazing resources for you! My mother was my 5th grade teacher and once I had my kids she had a plethora of items to share!
Buy Nothing Groups - These primarily Facebook groups are dedicated to posting free items that you can pick up in your area! I've seen books, furniture, clothing, learning materials, and so many other items posted there!
Co-op Groups in your area - Homeschool co-ops are great resources to borrow or purchase items for your little learner!
Libraries - Many libraries will have weekly activities and provide the printed materials or crafts for your little learner!
Thrift Stores - Talking about reusing, thrift stores are gold mines for items that you can utilize for your learning environment!
Reuse, Reduce, Recycle!
It's never too early to teach your little learner about reusing, especially while you're working on finding thrifted items for them to use in their learning environment! These books will get them excited about the items you bring home to help them learn!
This book describes the ways in which kids and their families can avoid waste and be environmentally conscious. Four pages presenting activities for children appear at the back of the book, followed by a two-page section for parents, with tips on explaining the subject in more detail.
Keep crafty children of all ages entertained and inspired for hours with Fiona Hayes' 100 Things to Recycle and Make. Everyday materials are transformed into all kinds of stunning and practical projects, from toy animals and vehicles to dressing-up props, decorations, games, and even fun storage solutions.
Kids can follow Max the Little Green Monster's journey to environmental awareness and learn tips on how they can become little green monsters themselves. A kid-friendly glossary of terms is included in the back of the book.
Want more suggestions? Check out our Recycling, Reusing, and Our Earth list.
Activities
Now that you and your little learners are inspired to reduce and reuse let's talk about some activities you can do that'll use some items you have laying around the house!
Pom Pom Drop - like me, you'll be building this over and over again. Have your little learner help you place the tubes in new spots so they can create how the pom poms drop! There's so much that can be done with paper towel & toilet paper rolls, check out this article for inspiration.
Card Sorting - while the article uses oatmeal containers, you can build this with any kind of container! You can also make your own cards with recycled paper!
Creation Station - you'll notice I've linked two articles from the same site, that's because Busy Toddler is so great! This idea of a creation station will bring such excitement to your little creator!
---
This Week's Favorite Activity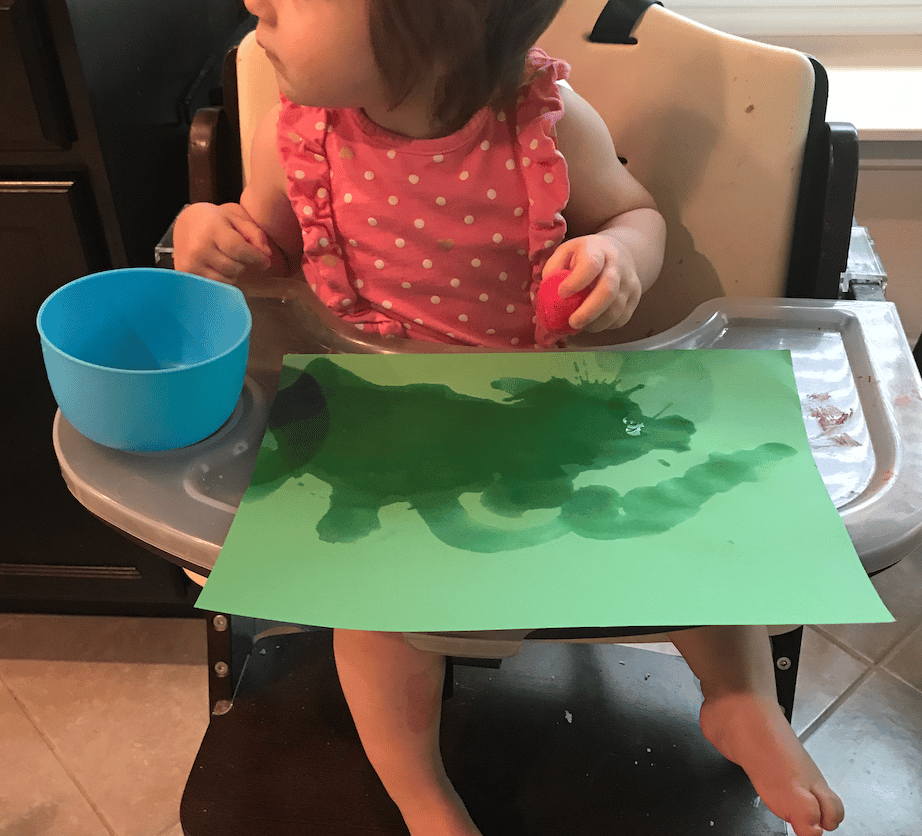 There are times where you want to let your little artist go to town, but you don't want to clean up paint or make sure there aren't any marks on the furniture. The easiest solution is bringing out a piece of colored paper, a shallow bowl with water, and a few pom poms! Your little one can 'paint' to their heart's delight!
Happy learning and have a beautiful week!